General Information
Registration Guidelines
From the registration page click the green button
Choose your registration category
Registration categories
| | |
| --- | --- |
| General | 40€ |
| Members of the Portuguese Society of Sport Psychology | 25€ |
| Coaches with a valid Portuguese Professional Sports Coach Title | 25€ |
| Students | 25€ |
After selecting your registration category, click in the orange button (checkout):
Fill in the mandatory fields
Choose your preferred payment method: Credit Card or PayPal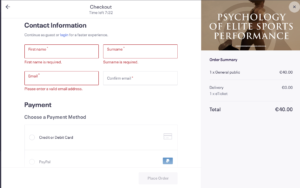 For tax purpose please fill in the Fiscal / Tax Identification Number field

After that click on the orange button (place your order)
You will receive an email confirming your registration
Depending on your registration category you may reply the confirmation email that you have received in order to certify you registration category
Registration process will close at 17:00 Lisbon time on 19th of November 2020.
Online Platform
The online platform will be Zoom. Please make sure to have the last update installed on your favorite device.
The Online European Conference Psychology of Elite Sport Performance has limited attendence that is available on first-come, first-served basis.
Official Language
The official language of the online conference is English. Simultaneous interpretation will not be available during the sessions.
Time Zone:
The time zone in Lisbon is WET – Western European Time (Standard Time) at the Conference's date.
If you have any questions or for more information, please contact us at:
Secretariat
Inês Sousa
psypersecretary@ulusofona.pt