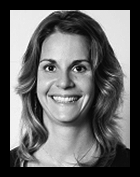 Anaëlle Malherbe
INSEP, France
After 5 years in a private school of psychology, I specialized in psycho traumatic disorders and sport psychology. During my studies I worked in various places: sleeping disorders service, pain unit, adolescent department, psychiatric service and some sports clubs.
As psychologist, I worked for 3 years in a Human Resources office with 2 main missions: recruitment, and career management / retraining.
I worked also for 3 years in a service specialized in post-traumatic disorders and psycho-social risks. In this way, I helped people during Paris's terrorist attacks, car accidents, assaults etc. I also helped people dealing with personal/ professional difficulties. At the same time, I began a private practice with adolescents, and adults.
It is now more than 6 years that I work at INSEP. First, I was attached to the medical service doing clinical psychology and prevention with athletes. Currently, I'm attached to the performance service, working on the mental performance with French elite athletes, coaches and national teams. Currently, I especially work on the field with the Fencing team and the Rowing team for TOKYO 2020. I also work with some elite athletes in different sports (judo, weightlifting, archery, taekwondo, canoeing, kayaking, gym, swimming etc.).
I am also co-animator of a French network task force of psychologists, mental coaches and sport psychology researchers. The aim of this task force is to provide a national organization regarding psychological support to elite athletes and coaches. Currently, we are designing a national follow-up program regarding the development of mental and psychosocial competences of the athletes all along their sport career. We also work to develop and promote psychological topics to be included as   part of initial as well as continued training programs for coaches.
Sport back ground : judokate (black bell / competitions ) and now I practice muaythai and hiking.
Psychology of Top Sports: the "INSEP Grand Model"
Anaëlle Malherbe
INSEP, France
Since 2018, a group of experts has been working together on the theme of mental approach. In France, training centers are located all over the country. From the « Pôle Espoir » (junior elite athletes) to the « Pôles France » (senior French elite athletes), a large number of athletes preparing for the O.G move on to train at INSEP.
Together with approximately 30 experts from four different fields of expertise: clinical psychologists, mental coaches, researchers and coaches, we have built a common language, enabling us to work together in a more coherent, cross-disciplinary way.
Following our first national meeting, four main themes transpired. The first one concerns a common language, the second on the long-term support of elite athletes and the other two on the initial and continuous training of the coaches along with the analysis of their practices.
The four themes are the subject of several working groups. As the main driver of this network, I would like to present to you the way in which we decided to coordinate the network along with the main results of the different working groups.
On the 16th and 17th of November, a few days before the European conference in Lisbon, we are organizing our national meeting. This will enable us to answer any questions you may have with the latest results from the field along with our analysis.